1. What Is the Tool Used for?
The Broken Links Checker helps to easily integrate broken link checking into your Google Ads campaign management. The tool allows you to constantly monitor broken links and fix them with a simple prompt.
With a Broken Links Checker, you'll be instantly aware that users are getting into error pages. Knowing that you'll fix links in time and prevent ad budget wasting.
2. Short-List of Key Features
A daily scan of your campaigns for broken links
The error type indication
Various filters to find links by specific attributes
Fix broken links directly from the PromoNavi interface
Fixed and declined links history
3. How to Find Broken Links
Navigate to your Recommendations area, where one tile will display the built-in tool, the Broken Links Checker. Here, you'll see whether there is a problematic link somewhere on your site that needs to be addressed.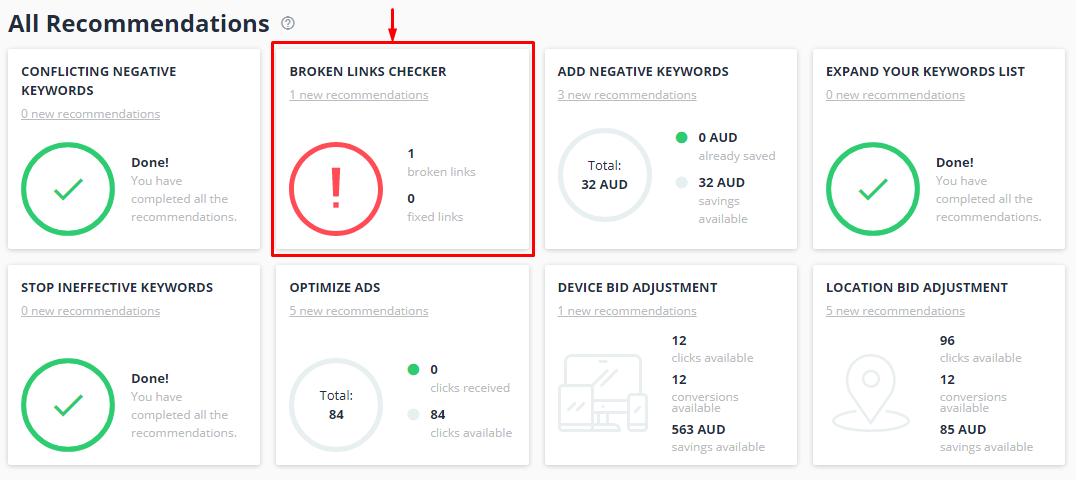 Go to the Broken Link Checker recommendations. You will see the response code or the particular reason that PromoNavi has determined this link is broken. More often than not, this will be a 404 error. You'll see the detailed link URL, the linked campaigns, and ad groups. For absolute clarity, you'll see when this was determined a problem – letting you make sure your troubleshooting timeline aligns with the most recent check date.

4. How to Fix Broken Links
Click the "edit" icon to the left of the indicated broken link URL. Here, you'll be able to fix the problem by providing the correct destination address for that particular link.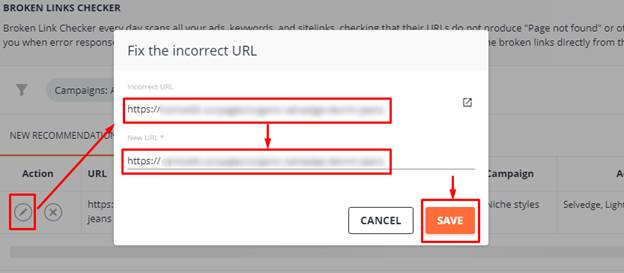 Save this change and move on to any further issues, taking care of broken links all across your site, on the path to optimization.
If the broken link is detected mistakenly, or you've fixed the error earlier, you could decline that link.
Note! If the tool finds the new broken links you'll receive a notification by email. So, you'll be always aware of the possible link errors.