1. What is the Tool Used for
Adding negative keywords to your campaign may cause blocking normal keywords. For example, the word "used" is a negative keyword for the group "buy a new sofa" but it is not applicable for a group "buy used sofa." Adding such a negative keyword to the campaign-level leads to the conflict when the ads for the relevant keyword "buy used sofa" are blocked.
Conflicting negative keywords may occur for several reasons. For example, they may be caused by broad match keywords at the campaign-level. Also, you shouldn't rule out the human mistake. Whatever the reason, conflicting keywords don't let your customers reach your offer, and you should find and remove them.
The Conflicting Negative Keywords tool constantly monitors your Google Ads account for negative keywords that block normal keywords from matching relevant search queries. Remove these negative keywords, and your campaign becomes more effective.
2. Short-List of Key Features
Daily Google Ads account monitoring for conflicting negative keywords
Browse the negative keywords and associated ads that are blocked
See the potential traffic growth after removing conflicting negative keywords
View data for all or only selected campaigns
Remove negative keywords in a one-click directly from the PromoNavi interface
3. How to Get Conflicting Negative Keywords Recommendations
Log in to your PromoNavi account and go to the Recommendations section. If the tool finds conflicting negative keywords you'll see the notification. Open the recommendations.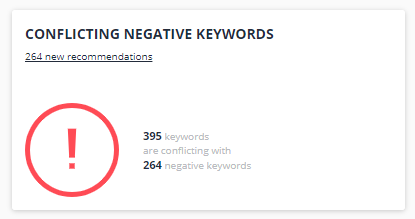 By default, the system shows negative keywords for all the campaigns in the account. If needed, can choose the campaigns for which you want to get conflicting negative keywords.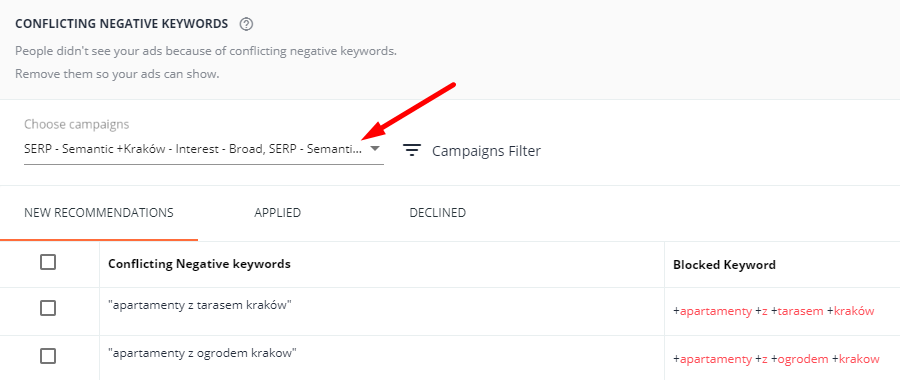 In the campaign drop-down list, tick the checkboxes to choose the campaigns for which you'd like to get recommendations.

In the table, you'll find negative keywords as well as blocked normal keywords and the associated ad groups.

Click the Show link in the Ads column to see the blocked keywords and ads.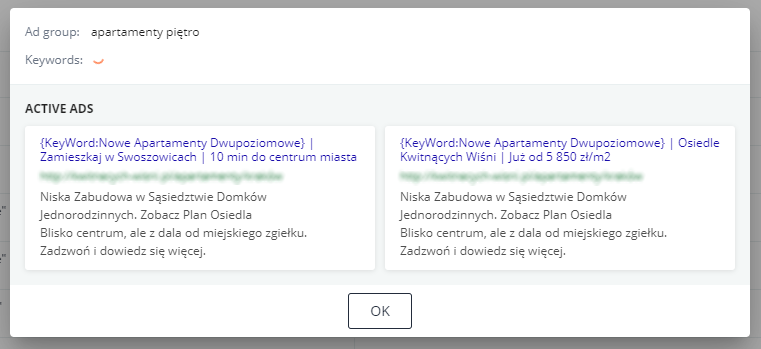 4. How to Remove Conflicting Negative Keywords
If you want to unblock ads, you should remove the corresponding negative keywords. Tick the relevant negative keywords and press REMOVE NEGATIVE KEYWORDS. The changes to your Google Ads campaign will be performed automatically.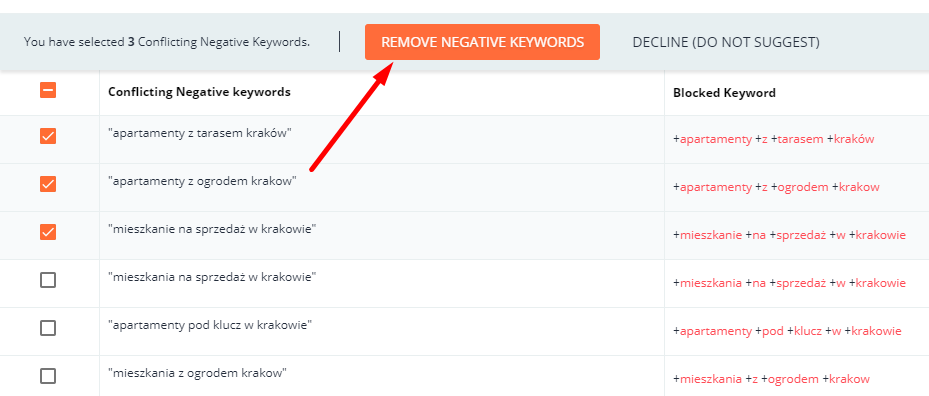 If you don't want to delete some of the suggested negative keywords and would like to stop getting recommendations for them, tick the checkboxes next to those keywords and press DECLINE (DO NOT SUGGEST).